Jessica Thomas, which is without doubt she is one of the best players in Greek championship, in an exclusive interview at Kingsport.gr and at journalists John Drosos and Dimitris Maganaris.
In basketball, the A-Z is the guards. And it is very important for a team to have good players in this position.  And Olympiacos Piraeus is happy to have got a player like Jessica.
The 25-year-old, American point guard, has an important career in NCAA and she is the star of the Olympiacos' team. And the stat sheet confirms it.
Διαβάστε εδώ τη συνέντευξη στα ελληνικά.
Read the interview at Kingsport.gr:
This interview took place after the winning match Olympiacos-Athinaikos 107-41, in which Jessica scored 32 points, with 7/9 3-point shoots.
So, Jessica, make us a comment for today's match. 
I think as a team we played pretty well. Still I mean it's funny ,but we still learn each other, building chemistry as far on the defense even just figuring out  what everybody is gonna do on reactions. I feel like on offense we hit a lot of shots missed a couple too but I think we did pretty well.
"My first sport was golf"
Tell us about your first steps in basketball.
It's funny cause my first sport is golf so I played golf and it wasn't until really that I got to middle school. I always played basketball with people at school but at the end of the day during the weekends and stuff I was playing golf. But when I first picked up a ball it was easy for me to just realize how much fun and entertaining the game is. Ever since then it's funny when I was 12 is when I started playing with referees and everything was organized. And after that I started playing travel basketball then start traveling around the country then I was just hooked to it.
As a guard, do you prefer to score or to make play for your teammates? 
It's usually to make plays for teammates but since I've been here with Olympiacos my role has been a little bit different. I enjoy scoring but also I get excited and I get energy from getting my teammates involved.
"College and professional player, were completely different things"
What is your nickname?
I got a couple here they call me "Jay", a lot of people from college they call me "Jay Tee", "Jess", sometimes "Jee" which mean younger. I was always the youngest one hanging around with my friends so everybody started calling me "Jee" and that stuck with me for a while.
Miami Hurricanes in NCAA, San Antonio Silver Stars in WNBA summer camp. And then, Lulea basket in Swedish. What was your experience of each team?
Everything was learning. So in college my first year I didn't play a lot I didn't get a lot of minute but over the year like that summer drastically my role changed for that team. I was a captain now I was learning from them too to be more vocal and helping others and not so much worried about myself going straight to San Antonio. It was two different types of basketball of course college and professional it's totally different the shot clock is totally different and just small things like defense can't sit in the pick for 3 seconds, I was learning as well and San Antonio we had star we had the first round draft pick Kelsey Plum and I had to play behind her so being a role player instead of that star player that I was in collage was totally different for me. Going to Sweden there it was about me everything they made the team around me so I had to adjust and focus on my personal performance. I wasn't a captain anymore I was still a leader but I wasn't a captain just making sure every game I came out and I was just productive every single night.
"I am getting better as a player in Olympiacos- I love Athens"
What is your playing role in Olympiacos?
I think it happened gradually over the course the game my role is different and our team is so solid, our team is so strong, where if I am not having a great game or I am not shooting the ball, will somebody can come in and shoot the ball, and I am playing more of two now so I may not have the ball in my hand but at the same time I got to be able to make plays and focus on guarding other two players. Especially in Euroleague Yvonne Turner, Kaleena Mosqueda-Lewis having to guard them and make sure I can still be productive on offense event and go for rebound and stuff like that. So I think it's overall evolving my game I was more one-sided and now I have to be a complete player.
Do you like Athens?
I love Athens.
You are from Florida. Florida or Athens?
During the winter Florida for sure cause it doesn't get cold like it got here. I know one day it was snowing so Florida for sure no snow, but during the summer and around this time Athens but don't tell my Florida family that (A/N laughs).
"Very loyal the Olympiacos' fans – Everybody wants to beat Olympiacos"
What's your opinion about Greek championship?
I feel like the League is tough. Coming from Sweden me and coach joke about it all the time cause Sweden like the top 14 in Sweden were the toughest teams that we had to face but here you know everybody wants to beat Olympiacos. So we have a big target on our back and it's important that we continue this winning streak. So the Greek championship is important, it's tough it's competitive.
I want a comment for Olympiacos' fans. 
I love them. I think the best game which played in Chalkida with Sopron, they were great. They were awesome the energy that they bring even coming here in Glyfada. I know we don't play in the middle of Piraeus but at the end of the day I think we have some very loyal and supportive fans.
"I think defenitly Olympiacos will have a great show in Europe"
What was your experience for this year's Euroleague?
It's tough, Euroleague is tough every single night the way they defensively their tactics are different. If somebody had a good game like Anna (A/N Spyridopoulou) I mean she had a good game against Fenerbahce and then the next game you can tell the next team was like "don't let her get high, don't let her score". I think the Euroleague is tough offensively and defensively every single night cause you never know who will have a hot game but it was a lot of fun, it was very competitive and I think all of us took something from it.
Can Olympiacos make a big victory in this competition?
Yes, for sure i think we have all the right pieces. It's just a matter of putting them all together our staff they are very very interested on what we are doing so they are invested and for the players is easy for us to be all ok. Coach Thanos (A/N Niklas) is putting a lot of time on the scout a lot of time in the gym with us, waking up early in morning to come in get up shot or whatever it transpires into the game cause we know how much work our coaches have put into this making this possible for us. I think defenitly Olympiacos will have a great show in Europe.
"Euroleague is difficult, good and bad moments in NCAA"
How is your cooperation with coach Pantelakis?
It's great we were trying to figure out each other in the beginning, but I think half way through before I got home for Christmas we had a conversation we like ok, we just got to be on the same page and ever since then. Of course is not like the other Greeks but it works so it's a good relationship.
As a competition, more difficult is Euroleague or NCAA?
Euroleague, for sure. The size the pace is faster and its harder the NCAA, is more touch fouls so if somebody has the ball you can't touch him more than once in Euroleague. It was shown when we played with TTT Riga, they were more physical, nothing that something is hard to prepare for but once you start playing a couple games you getting used to it.
What was the best moment of your career, and the worst one?
The best moment it's probably last year I won mvp and we won Swedish championship that was big as a rookie.
Worse maybe my first year in college just having to adjust not playing a lot. Playing 5 minutes sometimes and just having to be ok with the just knowing that I am a first man and my time will came that's probably the toughest we lost an NCAA tournament early and we were all upset.
"I hope to win a Euroleague or a Eurocup!"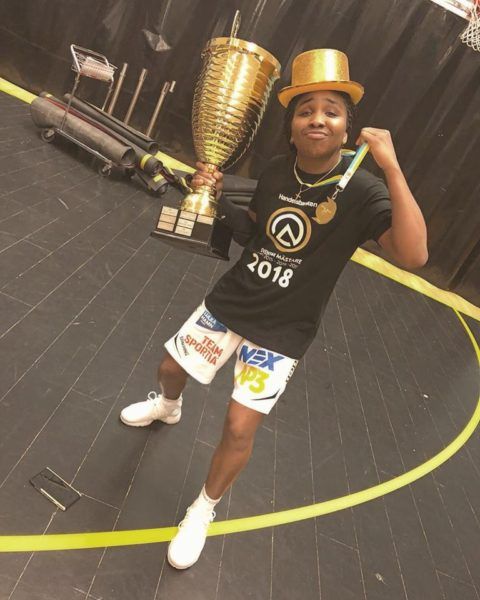 What game did you play again?
In college we beat Notre Dame which was number 3 team in the country and we beat them. Gave them they're first loss in our conference so that's probably one of the best moments that I ever had.
What are your plans about future?
Just being the best player. I can be i think it's important too to be a good teammate so hearing complements like "you are my favorite foreigner" or "I've never played with someone like you before".  Things like that I just wanna continue to build on those types of things but obviously winning championships. I love winning, I think that's probably one of my main focuses every day so hopefully Euroleague championship, Eurocup championship, whatever it is and respectively whatever country I am in.
"Lykendra Johnson, is a great teammate"
Who is your idol?
Men, sometimes is Chris Paul from the NBA and sometime Kyrie Irving.
Women right now its Chelsea Grey playing for Los Angeles Sparks.
Best teammate?
Probably Lykendra Johnson, she is a great teammate.
And most difficult opponent?
Probably Dynamo Kursk from Russia they were tough team.
"I try like learning a Greek word every day!"
What you do in your free time? What are your hobbies?
Here in Athens when we have off day probably sleep, I play a lot video games and now that weather is getting better, I plan on going to beach more but just having the day to myself like Massage or penticure, something like that.
You are already several months in Greece. Have you learned Greek?
A little bit yes, I try like learning a word every day.
Thank you very much!
Thank you too!